Registration closes September 9, 2021 @ 11:59pm (MST)
Schedule (Same for both days)
8:55-9:00am: Join Zoom Meeting
9:00am-12:00pm: Lecture
12:00-12:45pm: Lunch
12:45-4:00pm: Lecture/Practical Skill Development
This is an online event, the ZOOM link will be sent to registrants via email on September 10, 2021.
Upon completion of the workshop, participants will be provided with a Level 1 certificate in Motivational Interviewing.
What is Motivational Interviewing?
Motivational Interviewing (MI) is an evidence-based, client-centred directive therapeutic approach that elicits behavioural change by assisting clients identify and resolve ambivalence about attitudes and ideas. MI has been used in a variety of clinical settings and has been applied to various health conditions. MI is effective in reducing maladaptive behaviours such as alcohol abuse, drug addiction, and smoking and in promoting healthy behaviour change such as weight loss, medication adherence, increasing physical activity, and return to work. The applicability of MI across a variety of issues, its brief and specific interactions, and practical use in combination with other active treatment methods has intrigued many health care practitioners and led to explorations of the utility of MI in other areas of health care practice.

Motivational Interviewing Course Description:
This two-day workshop uses a combination of active learning, group work, and practice activities to develop basic skills in how to identify and address ambivalence and reduce discord with clients using the fundamental processes of MI. This workshop will encourage participants to consider how the evidence-based client-centred approach of MI can be applied in their practice.

About the MI Workshop Instructor
Joanne Pawluk (PhD, BScOT) has worked as an Occupational Therapist in the area of
occupational rehabilitation for over 14 years. Joanne is also a sessional instructor for the Department of Occupational Therapy at the University of Alberta. Joanne's research primarily focuses on individuals with musculoskeletal conditions and Motivational Interviewing. Her current research involves developing a program theory for Motivational Interviewing in work rehabilitation.
The costs of the workshop are:
Non-members - $495

AKA members -

$395

*Other PKA Members - $395

**Students - $295
*In order to receive a PKA discount, you will be required to provide proof of currently valid membership held with another Canadian PKA (Provincial Kinesiology Association).
**In order to receive a student discount you must be a student member of the AKA and you will be required to provide proof of current class enrollment.

Note: Refunds will face a $50 administration fee with greater than forty eight (48) hours notice and are non-refundable with less than forty eight (48) hours notice prior to the event commencing.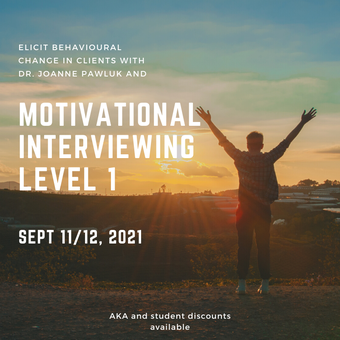 Zoom Link sent 2 days before event